The Kiki Women Series has been a wonderful initiative to be a part of. Kiki is not just a dear friend but also a massive inspiration. Her jewellery is one of a kind and having the opportunity to model it whilst representing my brand has been a unique and exciting experience! On the day of the shoot, I was given some stunning pieces to wear along with some of my favourite outfits. The candle I chose for the day was L'Orangerie as we were just on the brink of starting the summer.
It has been an honor to be associated with some amazing women in these series, be it, designers, or stylists. Each one has a special story to share and I thank Kiki for bringing us all together through her creativity and art of jewelry making.
My favourite piece of Kiki jewellery is a three string citrine pearl necklace with interspersed gold balls that was given to me in the late '90s along with a pair of matching citrine and amber earrings. They compliment each other so well.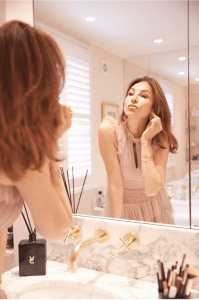 A full link to my feature with Kiki McDonough can be found HERE